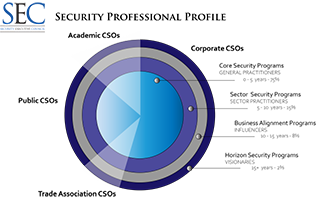 Click image to view full size
Visionary CSOs are at a stimulating point in their careers because they want to address horizon and cutting-edge issues. For example, security becoming a cost neutral department. Taking on significant challenges, such as social issues, or better partnering with law enforcement for the greater good. They want their security group to be recognized as one of the top ones in their industry. They also want to personally influence the security industry for the better
Visionary leaders are eager to share their knowledge, to publish their ideas for future generations. They want corporate security operations to be added to more university curriculums. They want to explore and expand corporate security-cyber security relationships. They want more opportunities to present to Board-level audiences. They want to Influence new vendor products or its development.
These are leaders who are at a stage where their programs are mature and in order. The business is happy with their strategies and leadership. If you want to change the security industry, we have all the ways to accomplish this.
Resources for Security Visionary Leaders
These may help you with ideas to accomplish your Visionary Leader goals:
Develop YouTube videos to mentor or train the next generation.
SEC Example: The
SEC YouTube channel
has 50 short presentations on strategic security topics and proven practices from our subject matter experts.
Write articles or develop a book on a topic you are passionate about and have deep expertise.
SEC Example: The "Insight" section of our website has articles written by our subject matter experts and staff.
SEC Example: SEC published books, most recently published in partnership with Elsevier.
Speak on key topics or be a source for magazine input or quotes.
SEC Example:
Next Generation Security Leader events
SEC Example:
Our media partners' magazines.
Contribute to security student education.
SEC example: Download
Risk Management and Security Metrics at Boeing.
The first corporate security academic case study by the SEC and University of South Carolina Darla Moor Business School.
SEC Example:
Serve on a board for one of our education/research partners.
.
Contribute experiences and expertise to research.
SEC example: Contribute to
industry benchmarks and assessments
like Security Leadership Institute Research (SLRI) Organizational Structure, Cost of Services and Staffing Benchmark and Security Maturity Assessments.
SEC example: Participate in the
Mercyhurst
/SEC partnership through the internship program, the CIRAT services program or the SEC Private Sector Innovation Lab.
Be a liaison to trade associations.
SEC Example: Be an
OSPA Awards judge
.
Partner with the vendor community. Be a test bed, pilot or influence new products.
SEC example: The
SEC Solution Innovation Partner program.
SEC Example: The SEC Private Sector Innovation Lab (work in progress), in partnership with Mercyhurst.
Lead security issue related working groups.
SEC Example:
The GSOC Next Generation Group.
International expansion.
Help make expand SEC offerings outside of the US by launching SEC communities in other countries or translate resources for non-English speaking audiences. See our
Industry and Reach document
.
Become involved.
We are an exclusively security practitioner community (exception: Solution Innovation Partners program). We are made up of former leading security practitioners and researchers. Our team is dedicated to advancing Security. Contact us at
contact@secleader.com