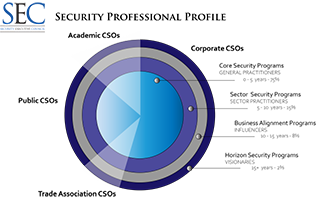 Click image to view full size
You want to make sure your first couple of years run smoothly and your plans come to fruition and add value to the company. It's an exciting time to be in a new role. But the best intentions can sometimes be waylaid with the reality of day-to-day activities. The following resources provide advice to help you succeed.
Security Executive Success in Your First Three Years
Take this assessment to immediately get your success potential score
and Security Leadership Research Institute research-based best practices of industry leaders.
The Potential Realm of CSO Responsibilities
A visual representation of research conducted by the SEC that shows the
potential mitigation services
that Security can provide to an organization.
Your Security Success Foundation
These eight elements can help you ensure that as you develop programs they are not undermined by a weak foundation.
Participate in Security Leadership Institute Research (SLRI) Organizational Structure, Cost of Services and Staffing
Compare your program to others
(no cost but you must register, have budget data and participate to receive the results).
SEC Job Board
If you have staff position openings,
you can post them for free ($350.00 value, mention code JBFree.
See our Job Board. This section of our site is highly visited.
Five Security Program Maturity Assessments
If you are taking over programs already in place, the SLRI has created
mini assessments of five of the most common security programs.
Three Ways to Improve Buy-In from Your Internal Customers
Ideas on how to
understand internal customers and potential customers
.
Interviewing for Your Core Security Team
Some questions that can help you decide
if a candidate has the skills for the job
.
Program Driver
Determine what drives the security program in your organization.
Aligned enterprise level risk driven program
Regulatory driven program
Business value-adding security programs
Can we help?
We are made up of former leading security practitioners and researchers. We have been where you are. Contact us if you want additional proven practices:
contact@secleader.com