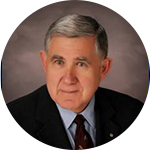 Radford Jones
Emeritus Faculty
Rad Jones is an instructor in the School of Criminal Justice, Michigan State University, where he teaches a masters level course in Public-Private Partnerships in Homeland Security and Emergency Preparedness. He also teaches online outreach programs in travel security awareness and homeland security issues. In 1997 he was the project director which developed the on campus Criminal Justice Masters program into an internet format. The program won a national award for academic excellence. Rad is part of the leadership team for the newly formed
Business Continuity Alliance
formed by MSU and the Council.
In 2000, under an Office of Justice Programs grant he published the Critical Incident Protocol – A Public and Private Partnership. He directed two Department of Homeland Security grants (1) Critical Incident Protocol – Community Facilitation that worked with communities in the development of joint public-private sector disaster preparedness and emergency response and (2) Training for law enforcement executives on Weapons of Mass Destruction (WMD) issues.
Rad retired as the Manager of Security and Fire Protection, Ford Motor Company where he was responsible for global activities in investigations, executive security, security guard administration, and fire/security alarm technology. He was instrumental in the development of a global risk assessment process, creation of crisis management teams, emergency response and disaster recovery programs and a global security/fire central communication center.
He retired from the U.S. Secret Service in 1983 as the Special Agent in Charge of the Michigan Division. During his 21 year career he was in charge of the Seattle, Washington and Alaska operations, served as a supervisor in a number of field offices and headquarters divisions. He was assigned to Presidential, Vice Presidential and foreign dignitary details. He was responsible for security coordination during the 1976 Presidential inauguration and advance teams for three political conventions.
Rad is a life member of the International Association of Chiefs of Police (IACP) and co-chairs their Private Sector Liaison Committee. He is also a member of the IACP's International Managers of Police and Academic Trainers (IMPACT) committee, a member of the American Society of Industrial Security, a life member of the International Security Managers Association and an alumni member of the U.S. Department of State Overseas Security Advisory Council.
He has made presentations on disaster management, travel security and asset protection related topics around the world, appeared on television and radio, and written articles for The Police Chief, Security Management and other publications.
Rad is a 1962 graduate of Michigan State University School of Criminal Justice and completed graduate studies at American University. In 2005 he was inducted into the MSU Criminal Justice Wall of Fame in recognition of his contributions and distinguished service in the field of criminal justice. In 2009 he was recognized by Security Magazine as one of the 25 most influential persons in security.
In Their Own Words
Watch Rad Jones and Jerry Miller's video presentations on Personnel Protection: Concepts of Executive Security, Personnel Protection: Advance Procedures, and Structured Critical Incident response on our YouTube page at https://www.youtube.com/user/SecurityExec/playlists