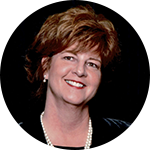 Pam Dost
Emeritus Faculty
Pam Dost started her 40-year career at Boeing working on proposals and classified programs. She retired from Boeing in 2017 as Executive Strategy Leader for Security & Fire Protection and Business Continuity Program Executive, reporting to Chief Security Officer, Dave Komendat. Boeing is a global Aerospace Manufacturing company operating in 150 countries with about 140,000 employees in 65 countries. It is a top U.S. exporter, which requires leveraging a strong global supplier base to advance economic opportunity. The size and scale alone of its global footprint and many complex interdependencies made this assignment the most challenging and rewarding of her career. She thrives on helping organizations see their opportunities and helping them develop a solid plan to achieve their goals towards operational excellence.
In her role as Business Continuity Executive Leader, Pam, with her team, worked with the CFO to develop a BC program directive holding all Business Units/Functions accountable to participate in the BC Program by assigning resources for plan build, test and maintain exercises annually. The directive also outlined a structure called the Boeing Business Continuity Council (BBCC), which comprised vice presidents from each business unit/function who met quarterly to monitor progress to plan. The BBCC also participated in annual companywide disaster recovery drills focused on prioritizing resources for recovery based first on employee safety and then considerations for highest-level impact to company revenue, brand reputation and contractual commitments. Pam's team built strong partnerships with all business units and functions, including Employee Preparedness, IT Preparedness, Fire, Supply Chain Resilience, Finance, HR, Travel, and Corporate Crisis Communications, to ensure a common framework, language and playbook across the enterprise. Her team earned the 2013 CIO 100 Award and 2014 CSO Top 40 Award recognizing security projects that had delivered outstanding business value for a geospatial tool called Threat Navigator.
In her role as Executive Strategy Leader, Pam helped identify, lead and ensure completion of key initiatives, including the CSO value metrics dashboard. The dashboard and management system moved the organization from being viewed as a compliance cost center to a valued critical business partner with strong alliances to corporate and board-level risk management. Pam was instrumental in developing a business case to consolidate multiple small site security communications centers acquired during mergers. The ROI was proposed as a means to reinvest in building a state-of-the-art GSOC.
Pam attended Central Washington University, achieving an AA in Business Management. She attended the University of Washington Aerospace Industrial Management Seminar (AIMS) EMBA Program, and the Kellogg School of Management at Northwestern University.