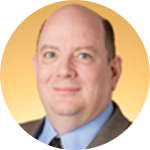 Michael E. Whitman, Ph.D.
Subject Matter Expert: Information Security and Assurance
Michael E. Whitman, Ph.D., CISM, CISSP is the Executive Director of the Institute for Cybersecurity Workforce Development and Professor of Information Security at Kennesaw State University, Georgia, with over 20 years' experience designing and implementing information security curriculum and over 30 years' experience teaching and researching at the university level. Under his leadership, KSU has been designated an NSA National Center for Academic Excellence in Information Assurance/Cyber Defense Education five times since 2004, most recently in February 2022.
Dr. Whitman has served as a consultant to the United States Government, the State of Georgia and several Fortune 1000 organizations on issues related to cybersecurity. He has authored eleven textbooks in information security including: Principles of Information Security and Management of Information Security, published by Cengage Learning.
Dr. Whitman is an active researcher in Information Security Management – Including Risk Management, Governance and Policy, and Ethical Computing. He has published over 50 articles in top venues such as Information Systems Research, the Communications of the ACM, Information and Management, and the Journal of International Business Studies, among others. Prior to his academic career, Dr. Whitman served on active duty with the 1st Squadron, 2nd Armored Cavalry Regiment in Germany as a scout platoon leader and squadron staff officer where his duties included the role of Automated Data Processing Systems Security Officer (ADPSSO).