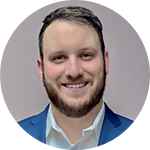 - Matt
Manager, Security Product Development
An experienced law enforcement professional with over 11 years' experience in security, public safety, and policing. He has proven expertise in training next generation leaders as a state certified instructor and field training officer. In addition, he has demonstrated success in public sector operational intelligence and investigations within a crime suppression assignment.
Matt joined the SEC in 2021 as a manager of security product development. Working within the Security Leadership Research Institute (SLRI), Matt has focused on applying 20 years of successful security program and leader research, to more effective ways for security leaders to evaluate, build, and enhance their core security programs. Matt has worked with the SEC Success Universe, Security Programs Domains and Elements, and the Security Standards and Regulations Research findings to create optimized products to facilitate program and leaders' success strategies. Matt and Kathleen Kotwica (K2) also manage the SEC University Internship Program and ongoing teams of Mercyhurst interns working SEC inspired projects.
Matt received his BS in Criminal Justice from Kennesaw State University and his MS in Law Enforcement Intelligence and Analysis from Michigan state. Matt has completed numerous state and private law enforcement training programs, and as well as private business intelligence curriculum. Matt is developing a solid background in private sector security and business practices that add value to the organization.