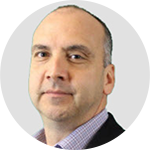 Mark Kelly
Subject Matter Expert: Global Supply Chain Security
Mark has more than 25 years of experience managing global security programs for major multi-national organizations with revenues ranging from $40b-$300b+ annually. His expertise spans the overall suite of physical security programs, but also specializes in supply chain security. Mark's industry experience includes information technology, pharmaceutical distribution & manufacturing, as well as retail loss prevention programs.
Prior roles include Global Head of Field Security & Supply Chain operations for Dell, Senior Director of Field Security for McKesson, and Regional Loss Prevention roles for assorted retailers.
His previous accomplishments have included:
Developing end-to-end supply chain integrity and security programs for manufacturing and logistics operations, including third-party relationships and dependencies.
Managing and mentoring large teams spanning the globe and protecting offices, warehouse, manufacturing and data center locations.
Evolving traditional physical security programs and crisis response to converged security approaches incorporating cyber and third party risk management.
Mark also sits on several advisory boards and is a frequent industry panelist. He has been a repeat guest lecturer at Georgetown University as part of their Masters program in Supply Chain.
Currently residing in Tampa FL, Mark lives with his wife and teenage son and can be found cheering on Lightning Hockey and Virginia Tech football.