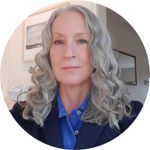 - Kathleen ("K2")
EVP and Chief Knowledge Strategist
Kathleen Kotwica, PhD, is EVP and Chief Knowledge Strategist for the Security Executive Council (SEC) and the Principal Analyst, Security Leadership Research Institute (SLRI).
Kathleen's responsibilities include establishing short- and long-term knowledge strategies to maximize the SEC's innovative output and uphold its mission to the SEC's security leader community. She leads the development and production of SEC tools, solutions, website and publications. She also oversees online marketing initiatives and communications. In her role, Kathleen maintains the strategic goals and direction of the SEC. She additionally conducts research on security leader and program success.
Kathleen has worked both in academia and business. The combination of experiences has resulted in an approach toward processes and research that maintains a focus on intended business goals. She enjoys identifying patterns in information and stored knowledge that can help businesses maintain a competitive advantage in the marketplace.
Prior to joining the SEC, she held a wide range of leadership positions including Information Architecture Consultant at a New England consulting firm, Director of Online Research at CXO Media (IDG) and Research Associate at Children's Hospital in Boston, a role in which she conducted behavioral research.
Previous accomplishments include leading the development of online resources geared for senior executives, IT and security-related editorial products, construction and deployment of information architectures for large-scale websites, industry taxonomy schemes, industry benchmarks, and empirical research reports.
Kathleen has a PhD in Experimental Psychology from DePaul University in Chicago. She has co-authored scientific peer-reviewed journal articles and has authored or edited many security industry trade and business magazine articles. She has spoken at several security-related conferences including CSO Perspectives, SecureWorld Expo, ASIS, and CSCMP.
Areas of Expertise:
Knowledge strategies including knowledge discovery, analysis, architecture, and delivery
Website strategy and development
Product management and development
Content marketing
Marketing communications including collateral, newsletters and social media
Research: security industry benchmark design, analysis and report writing; qualitative analyses
Business operations and processes
Managing geographically dispersed teams
In Their Own Words
In a Security magazine podcast, Kathleen talks about her
career journey and the challenges faced in security research.