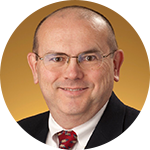 Herbert J. Mattord
Subject Matter Expert: Information Security and Assurance, Advisory Board of Visionary Leaders
Herbert J. Mattord, Ph.D., CISM, CISSP is the Director of Undergraduate Education and Outreach in the KSU Institute for Cybersecurity Workforce Development. He is a Professor of Cybersecurity in the Michael J. Coles College of Business at Kennesaw State University, Georgia. He has been teaching college classes since 1981 and designing and implementing information security curricula since 2002.
Dr. Mattord has served as a consultant to several Fortune 1000 organizations, the United States Government as well as the State of Georgia on issues related to information security. He has co-authored eleven textbooks in information security including Principles of Information Security, Management of Information Security, and Principles of Incident Response and Disaster Recovery (published by Cengage/Course Technology).
Dr. Mattord is an active researcher in information security management – Including risk management, governance, and policy. He is a member of the Information Systems Security Association, ISACA, and the Association for Information Systems. He served as the AIS representative on the Cybersecurity Curriculum Joint Task Force 2017. Prior to his full-time academic career, Dr. Mattord served as the Manager for Technical Security at Georgia Pacific Corporation.