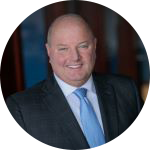 Greg Wurm
Advisory Board of Visionary Leaders
Greg Wurm is the Vice President, Chief Security Officer at Anthem, Inc., a Fortune 23 company with 90,000+ associates globally and over $136B in revenues. He assumed this role in 2014 and is responsible for the global security and safety of associates and facilities, physical security operations, security strategy, security crisis management, threat management, security risk management, and executive protection. As the CSO for Anthem, he leads a diverse, award winning team to meet the security risks and challenges around the world. Prior to taking the CSO role at Anthem, he held several roles at Anthem leading physical security projects and the domestic security teams.
Prior to joining Anthem, Greg was the Vice President of Security & Facilities at Centene Corporation. In this role, he had oversight for security and facility operations, executive protection, and was a team member of the crisis management and business continuity programs.
Greg's background is in law enforcement where he was the Chief of Police in Ladue, Missouri. He had executive oversight of the police department and served on the Board of Directors for the St. Louis Area Major Case Squad. Before being appointed Chief of Police, Greg spent 20 years with the St. Louis Metropolitan Police Department, serving in a number of roles including uniformed patrol, detective bureau, internal affairs, SWAT, and district commander.
Greg holds a Master of Science degree in criminal justice and a Bachelor of Science degree in business administration. Greg completed the Senior Executive Leadership Program at Northwestern University's Kellogg School of Management in Evanston, IL, and the Domestic Security Executive Academy at the FBI Academy in Quantico, VA. He is a graduate of the FBI National Academy, 205th Session. Greg is board certified by the American Society for Industrial Security as a Certified Protection Professional. He is currently a member of the US Department of State Overseas Security Advisory Council, where he serves as an Executive Board member. Prior to the Executive Board role, he served as the chair of both the Membership Committee and the Technical Threats & Risk Committee.