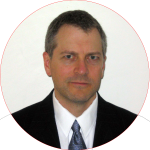 - Greg
Director of I.T. and Product Technology
Greg is the Director of IT and Product Technology for the Security Executive Council (SEC). He is responsible for maintaining and enhancing the SEC's software applications and technical infrastructure and for analyzing and mitigating risk as it applies to the SEC's IT systems and the intellectual property assets contained within. Greg also serves as the chief technical design architect for the SEC's IT systems as well as for the technical solutions provided to the Tier 1 Leader community. In addition, he has extensive experience with document and knowledge management processes and systems that are necessary to efficiently disseminate captured knowledge to the membership as a whole.
Greg applies his 35+ years of experience in computer science, project management and business consulting to ensure that technical solutions not only present an optimal application of relevant technology but that they meet real business needs in a cost effective, timely, and practical manner. He has held lead roles in designing, implementing and maintaining large complex applications for various businesses. His management experience includes leading multinational teams made up of employees, contractors, and third-party vendors in local and remote locations.
Before joining the SEC, Greg provided various services to multiple businesses, from retail to high-tech manufacturing. Most recently this included over ten years with a leading international business consulting services provider. Earlier in his career, much of Greg's work concentrated on software performance optimization as well as machine-to-machine communications. Over time Greg's roles have evolved into analyzing business processes and offering practical solutions to enhance business performance.
Greg's educational background includes an MS in Computer Science and an MBA.