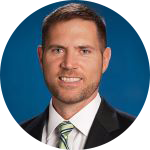 Geoff Shank
Advisory Board of Visionary Leaders
Geoff Shank joined Abbott as the Divisional Vice President, Global Security in November of 2016. Geoff and his team are devoted to safeguarding our employees, and the discovery, development, manufacture and marketing of life-changing technologies and products.
He has more than 34 years of experience in Law Enforcement, Investigations, Intelligence, Diplomacy, Security, Cyber and Technical Operations. Prior to his current role, Geoff led both the Investigative and Compliance Divisions for the U.S. Marshals Service and was the Director for the U.S. National Central Bureau of INTERPOL, coordinating activities in 192 member countries.
Geoff is an alum of the University of Maryland, College Park earning a Bachelor of Science degree in Criminology. He is a graduate of accredited executive leadership curriculums from the John F. Kennedy School – Harvard, the National Executive Institute – Federal Bureau of Investigation and the Foreign Service Institute – Department of State.