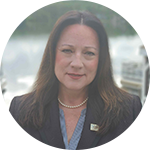 - Elizabeth
Director of Tier 1 Leader Services & Projects
Since 2005, Liz Lancaster-Brisson, M.C.J., has been responsible for planning, processes and project management for the SEC's Tier 1 Leader programs. This includes assisting Tier 1s and their staffs to quickly maximize the value of their Security Executive Council (SEC) engagement by gaining in-depth understanding of their programs, priorities, risks to business, mitigation strategies, interests and expertise. Liz helps direct the development of SEC strategic initiatives and services that are key to the process of helping Tier 1s make an impact in the areas of security that are important to them, their business, and their industry.
Prior to joining the SEC, Liz's background includes 17 years of combined risk management, business and consulting experience in the following areas: Corporate investigations; physical access control - personnel planning and budgets, systems design-build, performance measures and metrics and project management; security server finance, sales and administration; commonwealth and public/private corporation business resiliency planning; corporate security staff training and development; and at-risk personnel programs.
She has held positions with the Massachusetts Department of Correction as an officer assigned to the inner perimeter security office/internal affairs division; Applied Risk Management LLP as a sr. technical consultant; Apollo Security and Boston Scientific Corporation as manager of security integration and investigations; Astra Pharmaceuticals LP as security project leader; and Stratus Computer, Inc. executive offices in continuous availability server sales and finance.
Liz holds a Master of Arts, 1995, and a Bachelor of Science, 1992, in Criminal Justice Administration from the University of Massachusetts. She has authored and co-authored a number of articles and proven practices for the Security industry.