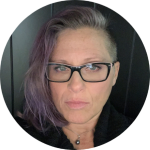 - Deborah
Tier 1 Leader Services & Projects Specialist
Deb joined the Security Executive Council at the end of 2021 and has been responsible for business communications, scheduling, client services, document control, and process improvements for the SEC's Tier 1 Leader programs. This includes assisting SEC leadership and enabling Tier 1s and their staffs to quickly maximize the value of their SEC engagement by gaining an in-depth understanding of their programs, priorities, risks to business, mitigation strategies, interests, and expertise. Deb works hand-in-hand with Emeritus Faculty to develop and deliver SEC strategic initiatives and services that are key to the process of helping Tier 1s make an impact in the areas of security that are important to them, their business, and their industry.
Prior to joining the SEC, Deb held the position of Risk & Compliance Manager at IKEA and spent nearly 10 years doing "all things security" including areas of loss prevention; staff training in fire safety, active shooter, bomb threat, proper cash handling, fraud awareness, and risk assessments; compliance with OSHA and Federal safety standards. During her time at IKEA, Deb's additional responsibilities consisted of daily operations for several locations including purchasing and data analysis; potential store employee interviews; investigations; customer service and conflict resolutions; sales, marketing and communications; budgets and forecasting; KPI's; shipping and receiving; quality/inventory control, and customer service.
Deb achieved the highest store safety and compliance scores across IKEA, is among the top National Leadership Scorers, and managed departments that achieved and exceeded a $15M sales goal in consecutive years.