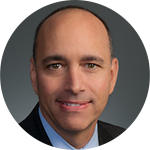 Dan Sauvageau, CPP
Emeritus Faculty
Dan Sauvageau retired from Fidelity Investments in 2019 as Senior Vice President of Global Security Operations after a 28-year career with the Company. At Fidelity, he served in a variety of senior security roles including as its Chief Security Officer (CSO). While CSO, he was directly responsible for the strategic direction and leadership of a 300+ person global proprietary team of security professionals, comprised of Operations, Investigations, Due Diligence and Background Vetting functions providing a comprehensive array of security, safety, and investigative services for 43,000 global employees with a $50M operating and capital expense budget. While a member of the Senior Security Leadership team and as CSO, Fidelity Corporate Security was awarded 1st place awards from Security Management magazine, on four separate occasions, for having the best security program in the entire U.S. Financial Services sector.
Strategic Business Partner – Trusted advisor to all levels of an organization. Couples superior analytical abilities and an open mind with diversified experience and intuition to provide valuable insights on strategic and tactical initiatives. Provides sound counsel through a measured and pragmatic approach, often in high-pressure situations. Developed and kept deep and lasting partnerships with law enforcement and public safety officials at all levels.
Persuasive Communicator – Skilled at translating complex concepts into compelling stories in a clear, concise, and to-the-point fashion. Recognized as a persuasive speaker well-versed in delivering informative and compelling presentations to a wide range of audiences.
Risk Management – Implements security, safety, and risk management strategies to protect client assets, information, company and personal reputation to reduce enterprise risks. Adept at developing effective safety, code of conduct, crisis management and security policies. Respected Leader – Unique talent to motivate individuals across multiple disciplines and at all levels of the organization. Fosters loyalty and dedication through the practice of transparency, honesty, and a team-first mentality
Innovator – Initiated/developed creative and industry-leading proactive services and programs in all security disciplines aimed at enhancing associate safety, reducing enterprise risk, and protecting brand reputation. Resulted in multiple industry 1st place and top awards.
Earlier at Fidelity, as Vice President of Security Operations, Dan led the firm's security and life safety programs and services at 13 sites across North America and Fidelity's international interests. His security consultative/management experience included work done across 12 countries and four continents including building first-time security programs and organizations in South America, Europe, and Asia.
Prior to joining Fidelity Investments, Dan spent five years managing security programs for multi-million dollar classified Department of Defense projects at Sanders Associates, a Lockheed Corp. He provided a variety of asset protection, training, audit and security services for people and programs as well as specialized security plans and programs to safeguard classified Department of Defense information at the Top Secret level.
Dan holds a BA degree in Criminal Justice from St. Anselm College and an MBA from Rivier University. He is a board Certified Protection Professional (CPP) with the American Society of Industrial Security (ASIS). Dan and his wife Lisa support charitable organizations including the American Red Cross and The Mahew Program. Dan serves as a member of Rivier University's Board of Trustees and in August of 2019, he joined the Security Executive Council as an Emeritus Faculty Member.