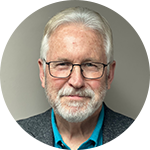 - Bob
Managing Director, Security Executive Council
Bob Hayes is the principal architect and founder of the Security Executive Council (SEC). He has more than 25 years of experience developing security programs and providing corporations security services, including seven years as the CSO at Georgia Pacific and nine years as security operations manager at 3M.
Bob was one of the first security executives to successfully implement unified management of corporate security, computer security, and business conduct and compliance programs in a Fortune 100 company. His security experience spans the manufacturing, distribution, research and development, and consumer products industries as well as national critical infrastructure organizations. Additionally, he has more than 10 years of successful law enforcement and training experience in Florida and Michigan.
Bob is a recognized innovator in the security field and was named one of the 25 Most Influential People in the Security Industry by Security Magazine. He is a frequent speaker at key industry events and a leading expert on security issues, and he has been quoted by such major media outlets as The Wall Street Journal and Forbes.
In Their Own Words
Read Bob's interview on convergence with Fred Burton of Ontic: https://ontic.co/blog/why-does-convergence-matter-a-qa-with-bob-hayes-founder-of-the-security-executive-council.
Watch Bob Hayes discuss how security executives can gain buy-in for security programs and what they need to do to maintain it: http://www.securityinfowatch.com/video/12188096/video-how-to-gain-internal-traction-for-your-security-program
Watch his video presentation on program defensibility: https://www.youtube.com/watch?v=3RVXdii0Rws
Read an article featuring Bob discussing cybersecurity in the modern world: https://hbr.org/resources/pdfs/comm/siemens/SiemensCyberWhitepaper.pdf
See Bob's discussion on shaping the future of security leadership: https://www.securityinfowatch.com/home/video/10947580/video-shaping-the-future-of-security-leadership
Bob offers advice for security executives at NGSL event on how to gain internal traction for your security program: https://www.securityinfowatch.com/security-executives/video/12188096/video-how-to-gain-internal-traction-for-your-security-program
Bob talks about the lack of executive support and gives pointers on the why and the how to create a risk-based security program. https://www.youtube.com/watch?v=gj6FP-8bk3A