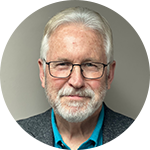 - Bob
Managing Director
Bob Hayes is the principal architect and founder of the Security Executive Council (SEC).
He led the groundbreaking industry research project that resulted in the first and only research-based organization specializing in identifying and quantifying the underlying factors of the successful security programs and security leaders. He has applied his 25 years of security executive and law enforcement experience to the defining works of security practitioner program success. Utilizing the findings of the SEC's sister organization, The Security Leadership Research Institute, the SEC has published over 50 books, hundreds of articles, and more than 30,000 practitioners from around the world subscribe to the free monthly newsletter sharing their findings. 12,000 plus practitioners visit the SEC website every month and download hundreds of success multipliers.
Bob is a recognized innovator in the security field. He has received numerous awards and recognitions, belongs to leading security organizations . He is a frequent speaker at universities, key industry events and is a leading expert on security management trends and issues. His work or quotes have appeared in dozens of magazines and publications. He has been quoted by major media outlets including The Wall Street Journal and Forbes.
In Their Own Words
Listen to Bob's interview on the evolution of Security Services with Steve Lasky on the Security DNA podcast: https://www.securityinfowatch.com/podcasts/podcast/53063094/security-executive-council-catching-up-with-bob-hayes-managing-director-of-the-security-executive-council
Read Bob's interview on convergence with Fred Burton of Ontic: https://ontic.co/blog/why-does-convergence-matter-a-qa-with-bob-hayes-founder-of-the-security-executive-council.
Watch Bob Hayes discuss how security executives can gain buy-in for security programs and what they need to do to maintain it: http://www.securityinfowatch.com/video/12188096/video-how-to-gain-internal-traction-for-your-security-program
Watch his video presentation on program defensibility: https://www.youtube.com/watch?v=3RVXdii0Rws
Read an article featuring Bob discussing cybersecurity in the modern world: https://hbr.org/resources/pdfs/comm/siemens/SiemensCyberWhitepaper.pdf
See Bob's discussion on shaping the future of security leadership: https://www.securityinfowatch.com/home/video/10947580/video-shaping-the-future-of-security-leadership
Bob offers advice for security executives at NGSL event on how to gain internal traction for your security program: https://www.securityinfowatch.com/security-executives/video/12188096/video-how-to-gain-internal-traction-for-your-security-program
Bob talks about the lack of executive support and gives pointers on the why and the how to create a risk-based security program. https://www.youtube.com/watch?v=gj6FP-8bk3A