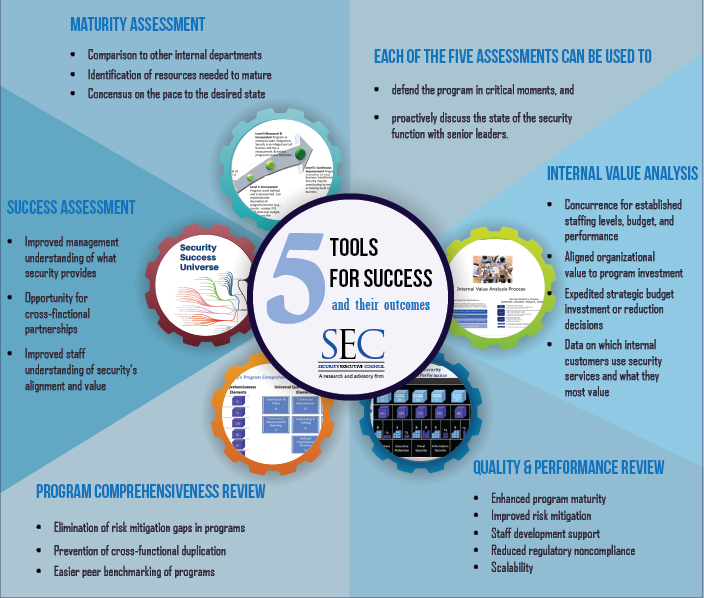 Suite of Assessments Provides Comprehensive View of Security
March 30, 2023 –
The Security Executive Council's suite of corporate security-specific assessments helps security leaders identify the function's current state, pinpoint gaps, identify options, and communicate the way forward to executive management.
The SEC has worked with practitioners in many industries, combining the Collective Knowledge™ of successful former security executives with Security Leadership Research Institute (SLRI) research to develop many assessments for different facets of the security function. This suite, the Five Tools for Security Success, takes security leaders from high-level review to deep-dive analysis to provide a comprehensive view of the state of security.
The Five Tools for Success includes the following:
Security Success Universe Assessment

Identifies gaps and weaknesses
Aligns with executives on concept of security

Maturity Assessment

Establishes baseline status
Measures service level

Program Comprehensiveness Review

Defines program magnitude
Determines options for incremental improvement

Quality and Performance Review

Establishes quality controls and performance measurements
Ties performance to quality and cost

Internal Value Analysis

Establishes value vs investment
Tracks expenditures by customer and risk
More details on each assessment are available on our website.
Portions of each assessment are available free of charge to interested security practitioners.
Contact the SEC to discuss the possibilities.
About the Security Executive Council
The Security Executive Council is the leading research and advisory firm focused on corporate security risk mitigation strategies and plans. We work with security leaders to transform security programs into more capable and valued centers of excellence.
Watch our 3-minute video
for a quick overview or visit us at
www.securityexecutivecouncil.com
.
Media Contact:
Marleah Blades
Manager, External Relations
256-689-0242
mblades@secleader.com