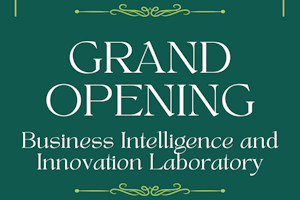 Security Executive Council and Mercyhurst University to Open Industry-First Business Intelligence & Innovation Laboratory
October 13, 2023 –
The Security Executive Council (SEC), the leading research and advisory firm on corporate security risk mitigation, and the Center for Intelligence Research Analysis and Training (
CIRAT
) at Mercyhurst University proudly announce the opening of the SEC's Business Intelligence & Innovation Lab (BI
2
Lab).
The grand opening will take place October 23, with demonstrations of BI
2
Lab products, capabilities, technologies and software, as well as tours of the Mercyhurst campus and a reception for all event attendees. SEC subject matter experts, Tier 1 Security Leaders and staff, and Mercyhurst faculty, staff and 2023 student analysts will all be in attendance.
The lab will empower corporate security practitioners and their executives with the ability to ingest information more quickly by breaking it down to a manageable and actionable level – without increasing their staff.
The partnership between the Security Executive Council and Mercyhurst accelerated in 2020, connecting the SEC's broad community of corporate security leaders with Mercyhurst's School of Intelligence, Computing, & Global Politics students and faculty to coordinate research projects and data analysis internship opportunities.
The BI
2
Lab will
advance the understanding and use of open-source intelligence (OSINT) and business information analysis in the private sector;
create and leverage intelligence-driven security risk research and tools to assist corporate security leaders in identifying and communicating information that is relevant to the business; and
develop methods of communicating findings to help executives draw actionable conclusions and make evidence-based risk decisions.
Headquartered at Mercyhurst, the lab will be staffed by student analysts and steered by an SEC Issues & Innovations Guidance Council comprising SEC subject matter experts, security practitioner leaders, SEC staff, and the Director of the CIRAT.
"Not only does this partnership yield optimum corporate intel experience for students, but it further enhances the SEC's ability to provide private-sector security leaders with real-time and predictive information to help them make more informed business decisions," said Brian Fuller, Director of the CIRAT.
"This initiative is the first of its kind in analysis and intelligence," says Bob Hayes, Managing Director of the Security Executive Council. "Due to the staggering amounts of information available to decision makers, the BI
2
Lab is a needed resource and provides an opportunity to develop actionable, decision-making capabilities for senior executives in the private sector."
About the Security Executive Council
The Security Executive Council is the leading research and advisory firm focused on corporate security risk mitigation strategies and plans. We work with security leaders to transform security programs into more capable and valued centers of excellence.
Watch our two-minute video for a quick overview
or visit us at
www.securityexecutivecouncil.com
.
About Mercyhurst University
Mercyhurst University, founded in 1926 by the Sisters of Mercy, is a fully accredited, four-year, Catholic comprehensive institution in Erie, Pennsylvania. The university is home to an estimated 3,000 students and offers more than 85 undergraduate majors with nearly 70 concentrations and pre-professional tracks, as well as 13 graduate programs. Learn more at
www.mercyhurst.edu
.
Media Contact:
Marleah Blades
Manager, External Relations
256-689-0242
mblades@secleader.com