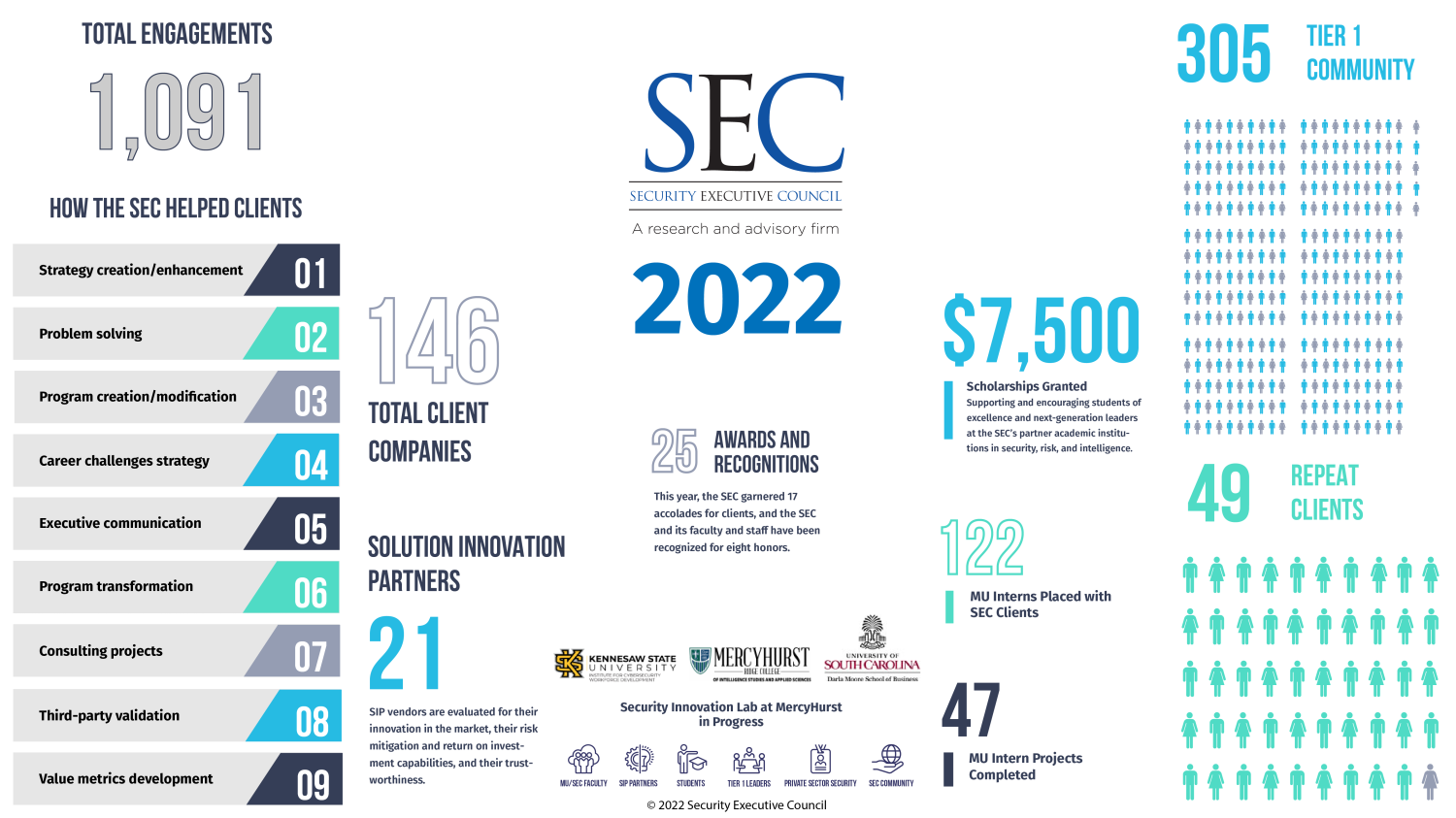 SEC Releases Industry Impact 2022
January 3, 2023 –
The Security Executive Council has released its yearly engagement and impact numbers, showcasing the breadth of the SEC's positive influence on the security industry.
In 2022, SEC subject matter experts and faculty delivered value to 146 client companies. Many of our engagements are with repeat clients who appreciate the SEC's Collective Knowledge approach and ongoing support that extends beyond the completion of each project. Tier 1 community members, who enjoy a special level of advisory engagement, numbered 305.
This year engagements for the most part clustered around nine categories: strategy creation/enhancement, problem solving, program creation/modification, career challenges strategy, executive communication, program transformation, consulting projects, third-party validation, and value metrics development.
In line with its founding principle to improve the whole of the security industry, the SEC also expanded its academic partnerships this year. The SEC awarded $7,500 in scholarships to support and encourage students of excellence at partner academic institutions in security, risk, and intelligence - Kennesaw State University, the University of South Carolina's Darla Moore School of Business, and Mercyhurst University.
As part of the internship program started with Mercyhurst University's Ridge College of Intelligence Studies and Applied Sciences, 122 Mercyhurst interns worked on 47 projects for SEC clients, covering data analysis and intelligence studies as well as capstone research and other projects.
More information about the SEC's 2022 impact can be found here, along with a visual of engagements, clients, and community impact.
Download a brief report about the outcomes clients have gained through SEC engagements.
About the Security Executive Council
The Security Executive Council is the leading research and advisory firm focused on corporate security risk mitigation strategies and plans. We work with security leaders to transform security programs into more capable and valued centers of excellence.
Watch our 3-minute video
for a quick overview or visit us at
www.securityexecutivecouncil.com
.
Media Contact:
Marleah Blades
Manager, External Relations
256-689-0242
mblades@secleader.com