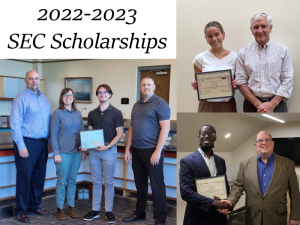 SEC Congratulates Inaugural Scholarship Recipients
September 27, 2022 –
The Security Executive Council proudly congratulates Joshua Kojo Asante Atuahene, Joshua Drabik, and Taylor Trafton on earning the 2022-2023 Security Executive Council Scholarships.
Joshua Kojo Asante Atuahene
is a junior majoring in Cybersecurity at Kennesaw State University's Institute for Cybersecurity Workforce Development.
Joshua Drabik
is a senior double majoring in Intelligence Studies and Religious Studies with a minor in Psychology at Mercyhurst University's Ridge College of Intelligence Studies & Applied Sciences.
Taylor Trafton
is a Senior in Risk Management and Insurance with a minor in PR and Advertising at the University of South Carolina's Darla Moore College of Business.
The SEC launched the scholarship program early this year to encourage and support next-generation leaders at its partner academic institutions, which are recognized for excellent programs in security, risk, and intelligence. Each $2,500 scholarship is awarded after consideration by the SEC Scholarship Committee made up of SEC staff, successful former security executives, and current security practitioners from well-known corporations, as well as university faculty.
"Kennesaw State University and the Institute for Cybersecurity Workforce Development (ICWD) are grateful to the SEC for this financial support for one of our best and brightest students," said Dr. Michael Whitman, Executive Director of the ICWD. "Joshua Atuahene has demonstrated his commitment to the discipline of Cybersecurity and is already on his way to establishing himself in his chosen career."
"I would like to thank the SEC on behalf of Mercyhurst University and Ridge College for providing this scholarship to a very deserving student, young man, and steward of the Intelligence Studies profession," said Brian Fuller, Director of Operations, Ridge College of Intelligence Studies and Applied Science, Mercyhurst University. "Josh is a rising star and will be extremely successful when he enters the Intelligence and Security community. The SEC continues to be a great Academic Partner with Mercyhurst and we look forward to continuing that strong relationship."
Greg Niehaus, Professor of Insurance and Finance at the University of South Carolina, echoed Fuller's sentiment. "The Risk and Uncertainty Management Center at the Darla Moore School of Business greatly appreciates the ongoing partnership with the SEC and thanks the SEC for initiating the scholarship program. Taylor Trafton is an outstanding student and leader on campus. She interned this summer at Munich Re and received praise for work there. She is very deserving of the scholarship."
The SEC hopes to continue supporting students of excellence through this scholarship and other work with our
education and research partners
. Congratulations to all!
About the Security Executive Council
The Security Executive Council is the leading research and advisory firm focused on corporate security risk mitigation strategies and plans. We work with security leaders to transform security programs into more capable and valued centers of excellence.
Watch our 3-minute video
for a quick overview or visit us at
www.securityexecutivecouncil.com
.
Media Contact:
Marleah Blades
Manager, External Relations
256-689-0242
mblades@secleader.com