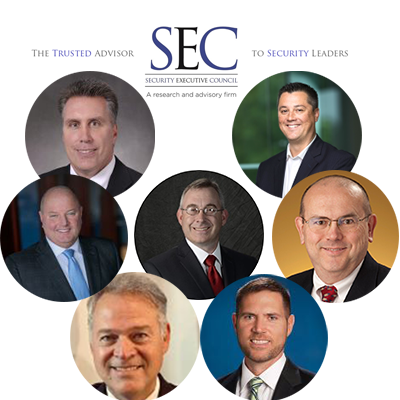 SEC Announces 2022-2023 Board of Visionary Leaders
August 26, 2022 –
The Security Executive Council is proud to introduce its 2022-2023 Advisory Board of Visionary Leaders.
"Each member of our new Board of Visionary Leaders is uniquely positioned to identify emerging business issues or risks that may impact security," said Bob Hayes, Managing Director of the Security Executive Council. "Their insight will help guide the SEC as we research and develop tools to assist the security community in managing these risks."
Whit Chaiyabhat,
CPP, MBCI, CEM, CBCP, is Vice President and Head of Global Security & Crisis Management for Takeda Pharmaceuticals. Whit has leadership experiences in international security, crisis management, business continuity, EHS, enterprise risk management, intelligence analysis, behavioral threat assessment, insider threat, protective intelligence/executive protection, and security technology programs in the public and private sectors. His experiences span various industries and organizational risk cultures including Fortune 500 companies, the U.S. Intelligence Community, Federal and State homeland security agencies, aerospace/defense, manufacturing, research, biopharmaceuticals/healthcare, K-12 and higher education institutions, risk insurance and risk management consulting firms.
Ted Fahy
is Head of Global Security & Resilience for Organon, a small multinational biopharmaceutical company. Prior to his appointment in 2022, he was Executive Director of Global Security for Merck's Global Security & Aviation Group, where he designed and led the implementation of enterprise-level protection and resiliency programs in protective intelligence analysis, crisis management, business continuity, product anti-counterfeiting, corporate investigations, travel risk management, executive protection, critical asset protection and workplace security. Prior to Merck, Ted held regional corporate security management positions with Arco and Amoco, both large multinational oil and gas companies, where he managed government and community affairs, aviation, country incident management and facility security operations.
Dave Komendat
is Vice President and Chief Security Officer for The Boeing Company. He leads the Security & Fire Protection organization responsible for site security, supply chain security, structural and aircraft fire protection, government and proprietary information security, data protection and security background investigations. His organization is responsible for incorporating Business Continuity principles, emergency and disaster preparedness, international security, crisis management, counterintelligence/counterterrorism & insider threat programs, threat management, security technical operations, and executive protection. Dave is also Boeing's interface for national and international security policy engagement with government and industry advisory groups.
Herbert J. Mattord,
Ph.D., CISM, CISSP is the Director of Undergraduate Education and Outreach in the Kennesaw State University Institute for Cybersecurity Workforce Development. He is a Professor of Cybersecurity in the Michael J. Coles College of Business at Kennesaw State University. Dr. Mattord has served as a consultant to several Fortune 1000 organizations, the United States Government, and the State of Georgia on issues related to information security. He has co-authored 11 textbooks in information security. He is an active researcher in information security management, including risk management, governance, and policy, and he served as the AIS representative on the Cybersecurity Curriculum Joint Task Force 2017. Prior to his academic career, Dr. Mattord served as the Manager for Technical Security at Georgia Pacific Corporation.
Geoff Shank
is Divisional Vice President, Global Security at Abbott. He has more than 34 years of experience in law enforcement, investigations, intelligence, diplomacy, security, cyber and technical operations. Prior to his current role, Geoff led the Investigative and Compliance Divisions for the U.S. Marshals Service and was the Director for the U.S. National Central Bureau of INTERPOL, coordinating activities in 192 member countries. He is a graduate of accredited executive leadership curriculums from the John F. Kennedy School – Harvard, the National Executive Institute – Federal Bureau of Investigation and the Foreign Service Institute – Department of State.
Duaine Styles
is Chief Security Officer at Globe Life. He leads a consolidated security risk management department which focuses on the identification and mitigation of potential loss events. These capabilities span business resiliency, crisis management, cybersecurity, and personnel security. Previously, he was the VP of Security for a large auto finance company where he also led a consolidated security department for over a decade.
Greg Wurm
is the Vice President, Chief Security Officer at Anthem, Inc., where he is responsible for the global security and safety of associates and facilities, physical security operations, security strategy, security crisis management, threat management, security risk management, and executive protection. Prior to joining Anthem, Greg was the Vice President of Security & Facilities at Centene Corporation. In this role, he had oversight for security and facility operations, executive protection, and was a team member of the crisis management and business continuity programs. Greg's background is in law enforcement, where he was the Chief of Police in Ladue, Missouri. He had executive oversight of the police department and served on the Board of Directors for the St. Louis Area Major Case Squad.
Read the bios of all of the SEC team on our
Who We Are
page.
About the Security Executive Council
The Security Executive Council is the leading research and advisory firm focused on corporate security risk mitigation strategies and plans. We work with security leaders to transform security programs into more capable and valued centers of excellence.
Watch our 3-minute video
for a quick overview or visit us at
www.securityexecutivecouncil.com
.
Media Contact:
Marleah Blades
Manager, External Relations
256-689-0242
mblades@secleader.com