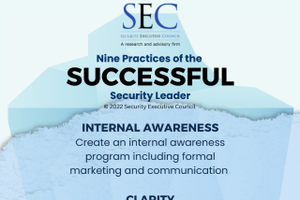 Nine Practices of the Successful Security Leader
December 13, 2022 –
The Security Executive Council is offering security leaders a special holiday gift this year: A new graphic outlining the Nine Practices of the Successful Security Leader.
Based on the report of the same name, the Nine Practices of the Successful Security Leader lays out a series of best practices for security managers. Collected from interviews with security leaders at public and private-sector organizations of all sizes, these practices are a sampling of what is vital and what works. With this information, security professionals can gain insight into the practices of their peers, measure their own success, and mentor junior colleagues.
This new graphic representation is a quick and easy way for security leaders to remind themselves of the nine practices every day.
The graphic is available here.
Security leaders can purchase the complete report on which it is based here.
About the Security Executive Council
The Security Executive Council is the leading research and advisory firm focused on corporate security risk mitigation strategies and plans. We work with security leaders to transform security programs into more capable and valued centers of excellence.
Watch our 3-minute video
for a quick overview or visit us at
www.securityexecutivecouncil.com
.
Media Contact:
Marleah Blades
Manager, External Relations
256-689-0242
mblades@secleader.com