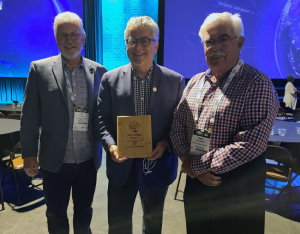 Francis D'Addario Wins OSPA Lifetime Achievement Award
September 15, 2022 –
The Security Executive Council (SEC) is proud to announce that Francis D'Addario, SEC Emeritus Faculty of Strategic Innovation, has won the Lifetime Achievement Award in the 2022 U.S. Outstanding Security Performance Awards (OSPAs).
The U.S. OSPAs acknowledge the contributions that companies, initiatives, teams and individuals make to the security industry and wider community. The Lifetime Achievement Award recognizes an individual who has consistently shown outstanding performance over an extended period of time and has had a substantial impact upon defining and driving standards in the security sector.
A servant leader, a next-generation thinker, and a lifelong student of the industry, Francis D'Addario has spent his career developing and implementing innovative solutions for workplace safety, crime prevention, and all-hazards risk mitigation. His efforts guided best practices and standards across the retail food and quick-service industries and likely saved thousands of lives.
Francis continues to influence the broader security community through his leadership in the SEC's
Solution Innovation Partner program
, which helps practitioners verify security products and service value; the
Next Generation Security Leader Program
, which helps security practitioners build leadership acumen; and the
Next Generation GSOC Group
, sharing proven practices and knowledge.
According to George Campbell, SEC Emeritus Faculty and 2020 winner of the OSPA Lifetime Achievement Award, "Francis is a seeker of new ideas and solutions, an innovator pushing technologists to apply their products and processes to solve the unique challenges we face in our industry." The SEC congratulates Francis on this well-deserved honor.
About the Security Executive Council
The Security Executive Council is the leading research and advisory firm focused on corporate security risk mitigation strategies and plans. We work with security leaders to transform security programs into more capable and valued centers of excellence.
Watch our 3-minute video
for a quick overview or visit us at
www.securityexecutivecouncil.com
.
Media Contact:
Marleah Blades
Manager, External Relations
256-689-0242
mblades@secleader.com
News Release