Beginning a new project or starting a new program can feel like an exercise in futility at the beginning.
You recognize that you must get buy-in and feedback from all organizational stakeholders, so you bring together staff and leaders from across functions who've never worked together as a team before. Each of them brings his or her own vocabulary and ideas of security-related concepts.
The first step is to get them all on the same page.
Security departments that rely on institutional knowledge alone to convey information about their function, the risk landscape, and their operations to this new team will be at a significant disadvantage here. Without clear, jargon-free documentation to start them off, the team will get stuck on this first step for much longer than is helpful or necessary.
Instead, develop an operations guide for the new program that is based on industry-leading material and proven practices, and make that the starting point for the new team's conversation.
An operations guide can include the mission and objectives of the type of program you hope to implement, its value, current state, program processes, risks, stakeholder requirements, and applicable standards and guidelines. It should be laid out in layman's terms so that those new to security will be able to easily understand its message. The image below is a graphic representation of an operations guide for an event security program.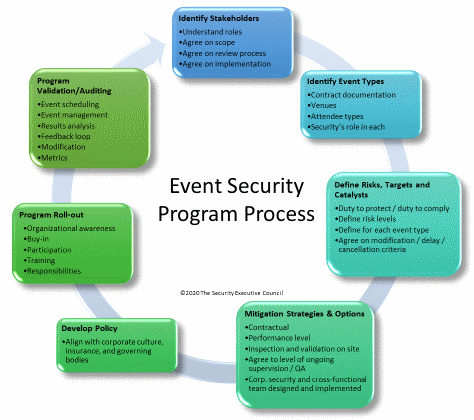 Presenting an operations guide up front and asking the team to customize it to their organization streamlines the process significantly. It saves time and can help the team avoid disagreements due to misunderstanding early on.
Next Steps
The Security Executive Council has experienced former leaders of successful security programs to help you build your operations guide.
Contact Us
to have a discussion about your program.