Negative social media buzz – whether factual or fictional – can quickly damage corporate and brand reputation, which can quickly damage value. Consider, for example, the UK's MetroBank, whose shares dropped 11% in May 2019 as a result of a WhatsApp message telling accountholders to empty their safe deposit boxes because the bank may be shutting down.
Deloitte's 2014 Global Survey on Reputation Risk
found that 87% of surveyed executives rated reputation risk as more important or much more important than other strategic risks their companies are facing. More recent studies continue to report similar findings.
A January
study by PR firm Weber Shandwick and KRC Research
found that "on average, global executives attribute 63 percent of their company's market value to their company's overall reputation." The study also stated that 76% of executives believe that reputation problems can be prevented.
Security practitioners can help the company get ahead of social media reputational risk by having a clear and clearly communicated plan for dealing with events. This reputation matrix can act as a starting point for security leaders as they develop and communicate their response plans.
The following is a sample of a social media reputational risk matrix.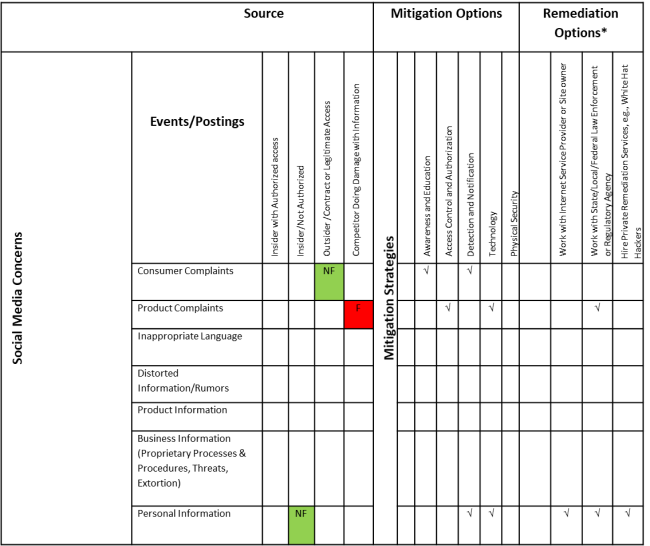 How can you use this resource?
To evaluate a potential event by determining the level of criticality of the threat and identifying the source before determining the course of action.
To promote consistency in threat assessment and response by soliciting feedback and sharing among stakeholders and team members.
As a training resource for new stakeholders and team members.
To calibrate with executive management on threat response and evaluation.
To maintain a defensible strategy for addressing reputational risk caused by social media.
Next Steps
Click on the PDF icon below to download a sample version of the reputation matrix, which can be expanded based on the needs of your organization. We've helped our clients develop more extensive versions including additional threats, source listings and mitigation options.
Contact us
for a discussion on managing reputational risk.
You can download a PDF of this page below: