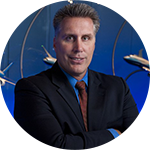 Dave Komendat
Emeritus Faculty
Dave Komendat retired as the vice president and chief security officer for The Boeing Company, a role he held for 14 years of his 36 years within the security profession. Komendat was responsible for the company's global security and fire protection policy and procedures, site security, executive protection, supply chain and aviation security, structural and aircraft fire protection, government and proprietary information security, classified cyber security, strategic intelligence, international security, business continuity and disaster preparedness, Global Security Operations Center, and security background investigations.
Komendat was also the lead Boeing interface for both national and international security policy engagement with numerous government and industry advisory groups. He represented Boeing as past co-chairman and current board member on the Domestic Security Alliance Council and served as president of the International Security Management Association and a member of the Threats and Information Committee for the Overseas Security Advisory Council.
Komendat serves in an advisory capacity for several companies and holds board leadership roles with several non-profit organizations whose missions are to protect people globally, including Hostage U.S. and The International Security Foundation. In 2018, Dave was awarded the Director's Award for Exceptional Public Service by FBI Director Christopher Wray.
Komendat graduated from California State University at Long Beach with a bachelor's degree in criminal justice specializing in industrial security, and is a graduate of the executive development program at the Kellogg School of Management at Northwestern University.