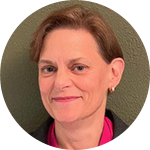 Amy Ballard
Security Executive Council Subject Matter Expert Faculty
Amy Ballard is a program facilitator for the Security Executive Council (SEC), the collective knowledge research and advisory services firm. Her IT and physical security acumen and experience uniquely qualify her as a key player for client cross-functional, all-hazard risk competency development. The SEC works with security leaders to transform security programs into more capable and valued centers of excellence.
Prior to joining SEC, Amy contributed 18 years of security related service and technology knowhow with The Boeing Company, Security and Fire Protection group. Her roles included being a founding member of the Boeing GSOC development and implementation team; for a multi-year project that assessed, built out and consolidated the company's first global security operations center.
Amy's accomplishments include concept development, industry bench marking, business case development, design and construction reviews; as well as project/ program coordination and communications. Additionally, she coordinated IT requirements for several major security systems and most recently was the webmaster for the Boeing Security and Fire Protection website.
Her areas of expertise include detailed data and trend analysis, metrics development, and project management. Amy's educational background includes a Bachelor of Arts in Business Administration / Finance, Project Management Professional (PMP) courses, and multiple advanced IT programing certifications.