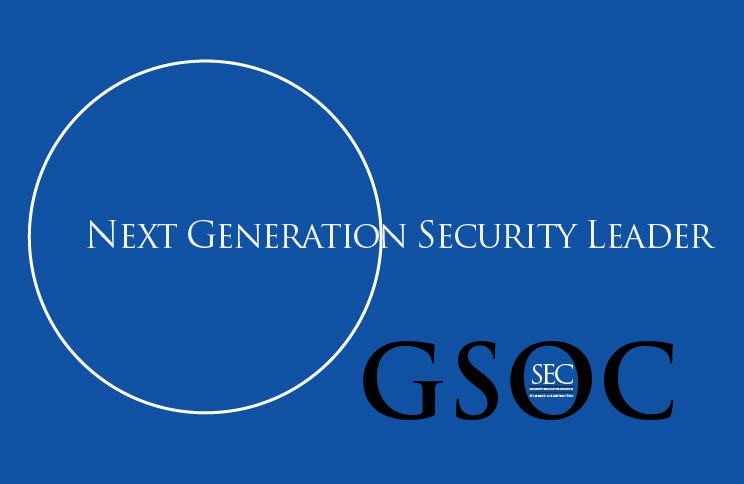 The Next Generation Security Leader (NGSL) Global Security Operations Center (GSOC) online course is taught by current security practitioners and Security Executive Council (SEC) subject matter experts. The course runs for 10 weeks. Each week has a 90-minute module that explores different GSOC related topics. Each module will be broadcast live and recorded so attendees that miss a session can access it. All sessions will be conducted under
Chatham House Rule.
This course is for current security practitioners and university/college students.
Start date: September 26, 2023. Modules are held on Tuesdays at 2:00PM EDT.
Register for the event on Zoom here.
Contact us for questions or help registering!
Modules
Week 1, September 26, 2023
The SEC GSOC Journey
Bob Hayes (SEC, Moderator)
Randy Harrison (Delta Air Lines), Dave Komendat (Formerly The Boeing Company)
Learning objectives:
Establish a common language
Understand industry variations (ranges of development)
Range of services and definitions
The role of GSOC in managing and addressing board level risk
Includes applications of these concepts at Boeing and Delta
Week 2, October 3, 2023
Regulatory Considerations - C4R, Privacy, and Other Elements
Dan Sauvageau (SEC, Moderator)
Nathan Mills (Zoom), Todd Vandervort (Travelers Insurance), Melissa Zellner (Organon)
Learning Objectives:
How to adapt the GSOC to address your organization's C4R
Defining and understanding regulatory requirements for industries and geographic operations
Provide optimum results while adhering to privacy and cultural concerns
Week 3, October 10, 2023
GSOC Service Models: Organizational Structures, Job Categories and Compensation
Liz Lancaster (SEC, Moderator)
Alex Carrillo (Meta), David LaFontaine (Acuity Brands), Steve Walker (Foushee Group, Inc.)
Learning Objectives:
Define delivery service models
Organizational structure and staffing models based on your organization's C4R (current conditions, circumstances, culture and resources)
Explore the value and challenges of a proprietary vs. contract personnel
Understand positives and negatives of maintaining quality while controlling cost
Week 4, October 17, 2023
GSOC Concept of Operations and Master Planning
George Campbell (SEC, Moderator)
Bhavesh Patel (Sanofi), Ed Shubert (McKesson), Jacob Valdez (Dell)
Learning objectives:
Create an acceptable plan to get input and buy-in from stakeholders
Create a living document to build and guide the GSOC
Define the elements of a 3-year road map/strategic plan
Week 5, October 24, 2023
Integration 101: Access Control, Video Management, Security Force Services and Alarm Management
Neil Johnston (SEC, Moderator)
Andrew Kelly (Coca-Cola), Priyanka Kumar (Comcast), Mike Damiani (Takeda)
Learning Objectives:
Understand the foundational function of the GSOC
Develop a basic awareness of new technologies (e.g., AI) that can have significant impact
Understand the stages of GSOC development and impact it can have on ROI
Week 6, October 31, 2023
Risk intelligence and All-Channel Stakeholder Communications
Francis D'Addario (SEC, Moderator)
Mary Hackman (Visa), Michael Wanik (United Therapeutics), Cathe Yusupov (Dell)
Learning Objectives:
Understand the value and scope information collection and analysis brings to the organization
Define the high-impact issues to monitor
Choosing cost effective information sources or tools and assigning access
Integrate information analysis across all stakeholder functions
Week 7, November 7, 2023
Emergency Preparedness, Critical Incident Response, and Duty of Care
Tom Bello (SEC, Moderator)
Alan Hill (Tampa Electric), Ellen McFadden (Salesforce)
Learning Objectives:
Define, document and communicate the services and value of the GSOC in responding to critical events
Understand internal and external resource needs and capabilities
Define roles and opportunities for cross-functional participation during non-routine events
Week 8, November 21, 2023
GSOC Performance and Value Metrics
Pam Dost (SEC, Moderator)
Ante Gaspar (Coca-Cola European Partners), Jonathan Jaster (Equifax), Kevin Wilhite (Delta Air Lines)
Learning Objectives:
Understand KRIs (key risk indicators), KPIs (key performance indicators)
Finding data sources
The importance of data quality on the impact on measurement
Defining your KPMs (key performance measurements)
Week 9, November 28, 2023
The Near Future: The Value of Corporate and Cyber Security Interface in the GSOC
George Campbell (SEC, Moderator)
Alan Borntrager (Dell Technologies), Taylor Isabell (Amazon), Duaine Styles (Globe Life), Don Von Hollen (City of Calgary)
Learning Objectives:
Understand the difference between converged, partnered and siloed security models and the positive and negative value of each
Organizational convergence versus optimized performance partnering; which method is the best for your organization?
Week 10 SEC YouTube Channel
SEC's Solution Innovation Partners (SIP) GSOC Service and Technology Case Studies
Dean Correia (SEC, Moderator)
Learning Objective:
Quickly Identify potential value-adding services for your GSOC
Note
Course completion available for Continuing Education Credit submission at most globally recognized standard associations.

Certificate of Completion provided post course.
*Pricing
University/College Student Rate $195 USD
Per Person $595 USD
Per Company – includes up to 12 virtual seats $4,995 USD
Post Graduation Whiteboard Session – includes up to 20 seats and a 2-hour whiteboard strategy with up to 2 SEC subject matter experts $3,995 USD
*Applicable taxes may apply.
Contact us for questions or help registering!