Created by the Security Executive Council
Our community comprises many individuals who are recognized in the industry as highly successful security leaders. Because they have allowed us access to their time and insights, the Security Executive Council was in a unique position to uncover and identify similarities that contribute to strong performance. A series of in-depth interviews led us to identify nine practices that the most successful leaders have in common.
The survey results below are what security and risk management practitioners today feel are practices that are the most important to their success.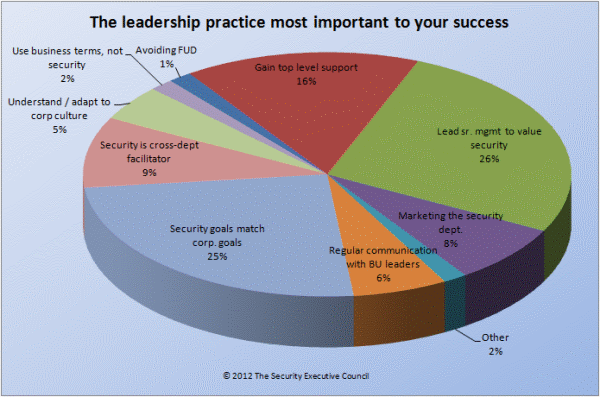 A report discussing the nine practices of successful security leaders is available here:
Nine Practices of the Successful Security Leader
Next Steps
Achieving all of these practices is not easy to do. That is why even the most successful risk management professionals often turn to the Security Executive Council for input. Sometimes all it takes is someone "who has been there" to bounce an idea off of, other times it requires experienced professionals to perform an in-depth risk assessment to get a program on track. The Security Executive Council has the experience and flexibility to provide the level of service that you need to remain successful in these changing times.